Premium engine and propulsion system manufacturer, Volvo Penta, is revealing its new D13-IPS1350 to a European market for the first time at the Cannes Yachting Festival. Thanks to its excellent performance and provision of exceptional on-board comfort, an increasing number of larger yacht builders are selecting Volvo Penta IPS to power state-of-the-art vessels up to 120 feet. 
Volvo Penta's latest IPS model, the D13-IPS1350, is a milestone product. It provides the highest performance in the range and sees the company move into the four-figure horsepower class for the first time with its 1000hp engine.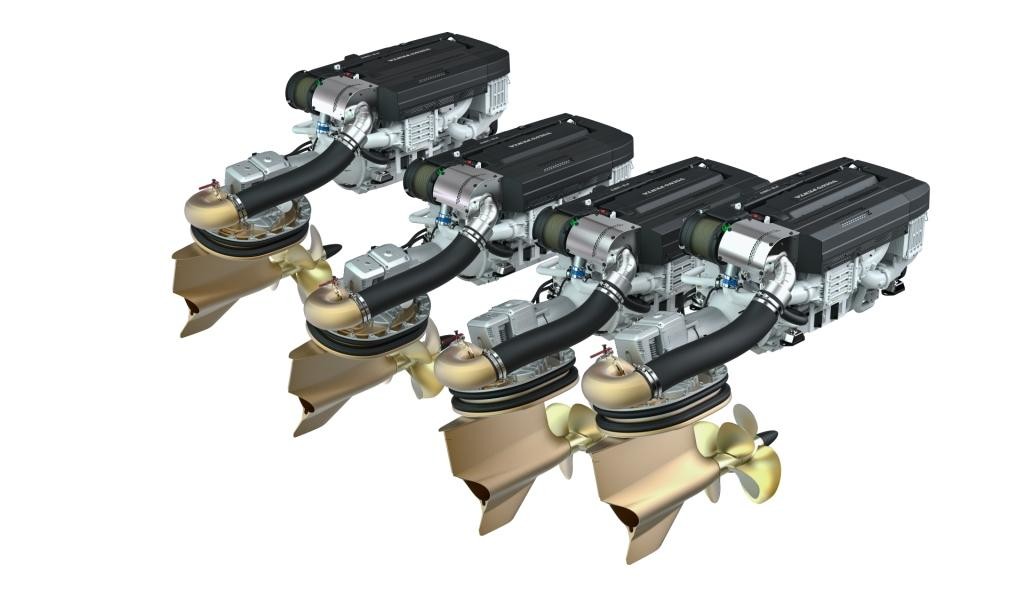 The D13-IPS1350 is a phenomenal package that offers power equivalent to a 1350hp engine along with the benefits of an upgraded IPS30 pod drive. The combination of the innovative pod technology and the high power of the engine creates an exceptional propulsion system that offers more possibilities than ever before for the larger yacht segment.
"Our new D13-IPS1350 is the ultimate choice for larger yachts," says Stefan Carlsson, head of Volvo Penta's Marine Diesel segment. "It opens the door to the superyacht market, and shows the confidence we have. Customers have seen how Volvo Penta IPS has developed over the years and an increasing number of boat-builders know they can trust us to power their vessels. There are many boats above the 60-70 foot range with Volvo Penta IPS today and now we are powering larger and larger yachts, up to 120 feet. A number of these different exciting projects will be on display at Cannes. "The philosophy we have at Volvo Penta is to look to the future and that is an attitude that is shared by our customers. We have state-of-the-art technology – our IPS system is an exceptional achievement. To be powering superyachts with IPS opens up a new era in yachting."
Pod technology: an ideal solution for large yachts
The original Volvo Penta IPS model was a revolution in the marine industry when it was launched in 2005, and Volvo Penta has since supplied more than 20,000 units to around 550 international boat-builders. The system has been continually developed and upgraded to create an unrivaled range of pod propulsion models from the IPS350 up to the new milestone D13-IPS1350 unit.
"Pod technology is not yet a mainstream solution for the superyacht segment, but it is being considered more and more for its benefits in this target market," says Johan Wästeräng, Volvo Penta's head of marine product management. "In addition to all the traditional benefits of IPS, one of the unique aspects is that it completely controls the fully integrated exhaust system. This results in a controlled exhaust release and a clean transom, enabling yacht owners to enjoy the often socially designed aft end of the boat while it is in transit."
"Volvo Penta IPS is the most innovative pod propulsion technology on the market," adds Stefan Carlsson. "We have our own in-house naval architects who work with yacht builders to design a vessel in an optimized way for larger yacht performance."
Revolutionizing the marine industry
Volvo Penta IPS brings efficiency gains to both large yachts and commercial marine applications such as patrol boats and passenger ferries. The system provides better acceleration, higher top speeds, superior fuel consumption, and lower noise and vibration, than a traditional inboard engine shaft installation.
"Customers have requested a bigger IPS option – a more powerful engine and better propulsion with the new propellers, which enable semi-planing at 25 knots and planing boats up to 44 knots," says Nicola Pomi, Volvo Penta's head of the marine market for Italy and Spain. "Owners of big high-end yachts want excellence and we are part of that. The extra space on board is a real selling point as it gives more room for the cabins and entertainment areas – it gives unique comfort. "And maneuverability is very important," says Pomi. "If you have a large, expensive yacht that needs to be docked in a tight marina, you have precision handling with our joystick. Some owners drive the boat themselves, without a captain, and they can do this with our IPS system – this is one of our targets for our 'easy boating' philosophy. It's a fully integrated system, including our Glass Cockpit and Dynamic Positioning System."
Maximizing a yacht's performance
Volvo Penta's Yacht Series Support provides 24/7 worldwide assistance to leisure customers with vessels installed with IPS 500-600 in triple or quadruple installations, or IPS 700–1350 in twin, triple or quadruple installations. "Volvo Penta IPS is a culture," adds Pomi. "We have a good co-operation with customers – we have expertise in technological engineering and when they follow our recommendations in terms of design of the hull and displacement, they can maximize the performance of their boat. It gives them the best outcome."