[dropcap]D[/dropcap]uring the recent Fort Lauderdale International Boat Show, Turkish yard Turquoise Yachts has introduced their brand new project Nautilus, a 62- meter (203-foot) explorer yacht, developed in collaboration with DeBasto Design. Nautilus is a new and a different kind of explorer yacht— well adapted to its intended life as a go-anywhere vessel, she offers the best interior accommodations, an extremely functional layout and all the facilities and amenities that one can expect only on much larger yachts. DeBasto Design is responsible for both exterior styling and interior design.
As a basic design decision, the tender deck is located at the front of the superstructure which allows for a complete separation between guests and services. This deck is 13.4 meters (nearly 43-foot) long comfortably allowing the stowage of an up to 12-meter (39-foot) tender, which is uncommon on a 62-meter (203-foot) yacht.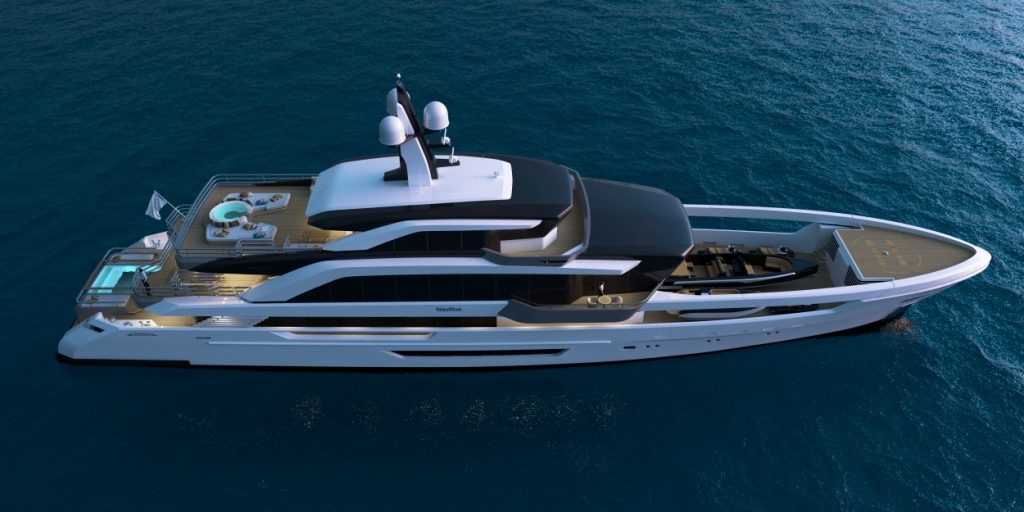 "Naturally, we had to make accommodations for some professional grade cranes, says Luiz DeBasto, founder of DeBasto Design. "To avoid a cargo ship industrial look, which would be inevitable using regular off-the-shelf cranes, I have ensured that the cranes are part of the superstructure, integrated into the overall design, a unique and revolutionary solution. If you look at the profile, you will be hard pressed to spot the cranes." DeBasto adds, "Although almost invisible at first sight, there's no compromise in the capacity of these two cranes, each one is capable of lifting 10,000 kgs (22,000 lbsmaste). These cranes are engineered to provide safe launch and recovery of boats or submarines, or sailing vessels, or cars, or…whatever is within the 10,000 kg weight parameters."
With the tender deck located forward, DeBasto placed the Owners' stateroom  on the Upper Deck facing forward above the open space— a glass shape projecting over the bow, surrounded by two exterior terraces. Another unique solution for an Owner's stateroom, is the absolutely spectacular 270 -degree views of the horizon, even from the bed… in total privacy.
Additionally, there are five guest staterooms, a full-size movie theater (that can optionally be converted to a 7th guest cabin), a swimming pool on the aft main deck and a full Beach Club on the Lower Deck aft, with safe access from the interior of the boat. Two-fold- down balconies enlarge the Beach Club area to provide close access to the water. To complete the wellness area, there is  a Gym and a Sauna.
The top deck is another entertainment area that has a hot tub, surrounded by sunbathing cushions, two conversation areas and a full- size bar. Forward, the Pilot House with radio room and captain's cabin has full visibility as well as  access to the wing stations.
The crew area was designed to offer an efficient service traffic pattern which is completely separated in all decks, starting from the Tank Deck level to the Top Deck for a professional and discreet service, including the access to the lower deck guest's cabin directly from the crew area. Besides the Captain Cabin on the Bridge Deck, there are 6  double ensuite crew cabins on the Lower Deck, plus two lounges: the general Crew Mess and Galley is on the Lower Deck and there is also a small lounge for the deck crew in the forecastle, all connected below deck. Ahead of the tender deck there is also a dedicated workshop space for tender maintenance and the mooring area is at the fore bow.
The forecastle deck is completely free and uncluttered and can be used as a touch-and-go helicopter area.
DeBasto also designed Tala, a 53-meter (174-foot)  yacht, that is well under construction at Turquoise Yachts. "She masters comfortable cruising, sporting aggressive but timeless and elegant exterior lines, along with a sophisticated interior design implementing particularly refined materials" says Patrik von Sydow, CEO of Turquoise Yachts.
"The yachts I have designed  over my professional lifetime vary widely from each other but always demonstrate a certain consistent DNA" says DeBasto, "which  has to do with  striking  a balance between form and function. No doubt,  most  designers also try to do the same, the difference is that I am only interested in the perfect adaptation of the form to the function when it reaches extreme beauty, and at the same time, when function achieves extreme usability with no compromises due to some aesthetic trend."
"DeBasto's form and function rule works very well with both Tala and Nautilus," comments von Sydow. The exterior profile of Nautilus has a purposeful, masculine look but is also elegant and timeless. She is extremely functional and beautiful—not only ready to take on a 20.000 mile-journey, but also many thousands more after!