Is it possible to make a review of these first 20 years of yacht design of the new millennium? In the January issue of Superyacht Digest, we have selected 20 boats that marked this era in terms of style, architecture, design, innovation and ideas. We have decided to release this selection at the end of 2020 precisely in order to celebrate the end of these first two decades, trying to look back on the journey made by architects and shipyards over all these years.
---
Read this article in the January Issue 2021
The following selection is presented starting from the most important vessel in terms of length. That's why it starts with Azzam, the biggest yacht ever built: with her 180 metres of pure beauty, she has held the title since 2013, despite Dilbar ranks first in terms of gross tonnage. As a matter of fact, while the first boat holds the record size-wise, the second one wins when it comes to volumes. In third place we find Sailing Yacht A, which in one of the previous issue of Superyacht Digest we voted as "the most instagrammed megayacht of the century". Although we don't think this is going to change any time soon, some shipyards have secret projects in the pipeline, which, they promise, they will steal the show, just like Sailing Yacht A did.
Flying Fox and Serene, both boasting an exterior design by Espen Øino International, rank #4 and #5 respectively in our selection. The first one, besides being beautiful in every single aspect, is the biggest boat available for chartering to date. Therefore, if you would like to spend your next summer aboard a true gem of the sea, far away from the bans and restrictions we have sadly become accustomed to lately, Flying Fox is what you are looking for. She is available for you thanks to the exclusive management of Imperial Yachts.
Serene, built by Fincantieri, was among the giants of the sea the year she was launched, as well as the biggest vessel ever built in Italy.
Al Lusail boasts a unique design, with her wavy lines that artistically outline her entire profile. In a 2018 issue of Superyacht Digest – in our attempt to compare some megayachts with a particularly elegant and artistic design to important works of contemporary conceptual art – her design was compared to a work by Paolo Scheggi.
Motor Yacht A – Sailing Yacht A's older sister – is still extremely fascinating and unique and can be easily recognized also by the non-experts. Jubilee, very elegant and super contemporary. Luminosity, a majestic glass palace that seems to be suspended above the sea.
Respectively #10 and #11 in the ranking we find two great sailing boats, Black Pearl and Maltese Falcon, whose beauty speaks for itself. Ace, thanks to her "eye" that characterizes her exterior design so strongly, is still deemed a true icon of the sea. At the time of the project, the boat was conceived to offer the highest quality cruising experience on board, both in terms of relaxation and wellness.
85-metre Bold is the longest all-aluminum yacht in the world, fast and sustainable. Savannah, beautiful and green, is the first hybrid superyacht. Alfa Nero is the yacht that has revolutionized life on board, with her sea level aft pool area.
With brand new Excellence and Artefact, we enter the world of pure design: as a matter of fact, we are talking about two ideas that took shape from a pencil sketch and eventually hit the water. Pi, first conceived as Syzygy, with her double-curvature glass windows really stole the show at the 2019 Monaco Yacht Show, where she was regarded more as an architectural work, than a simple vessel.
Atlante, a CNR's jewel, is still one of the symbol of custom-building. Boasting a very strong stylistic identity, this yacht offers stylistic features typical of military vessels with her square and sharp lines and her cutting-edge solutions.
Our selection ends with Exuma, by Philippe Briand: she is the first motor-yacht designed to be a green vessel, at a time when we thought that only sailing boats could be.
---
#1 Azzam (2013) – LOA 180.65m – Lürssen Yachts (Naval Architecture: Lürssen Yachts, Exterior design: Nauta Design, Interior design: Christopher Leoni)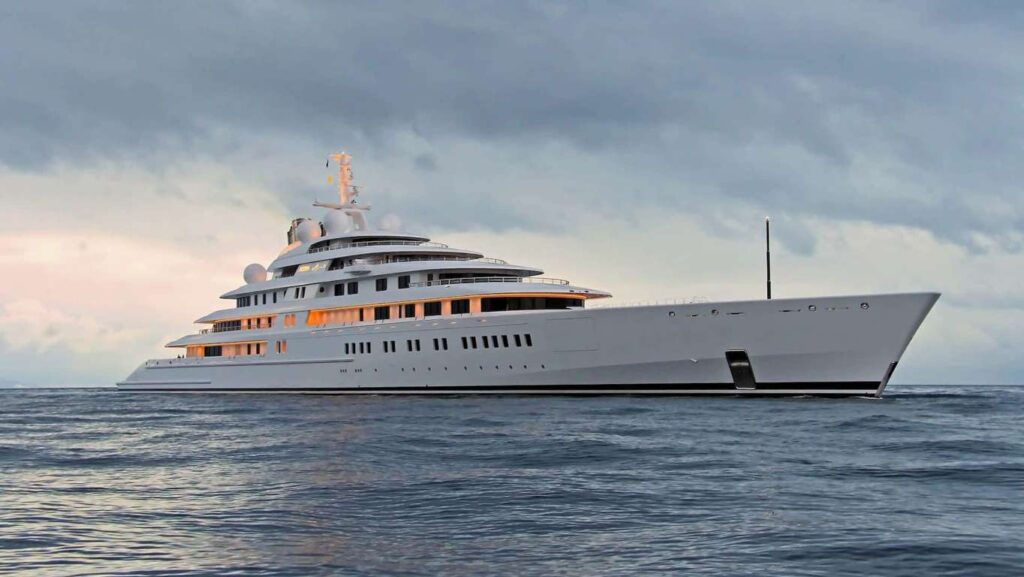 The 180-metre Azzam has held the title of "the world's largest superyacht" since her launch in 2013. Azzam is extraordinary not only due to her length, but also due to her record building time, since Lürssen built her in just three years.
The technical engineering was directed by Mubarak Saad al Ahbabi for her Emirati owner. He set out to build a large yacht with an innovative and timeless design that would be able to travel at high speed in warm and shallow waters. The bold and elegant exterior design by the Milanese design studio Nauta Yachts incorporates many elements of visionary design, featuring a balanced, modern architecture composed of straight lines and proportional volumes. Renowned French designer Christophe Leoni conceived a sophisticated interior with luxurious décor inspired by the Empire style of the early 19th century.
There is not much information about her interior design, but it's not a secret that the interior layout includes an open-plan main saloon measuring 29 metres by 18 metres.
Thanks to her twin MTU 20V 8000 M91 engines with 12,205 hp each, Azzam can reach an exceptional top speed of 31.5 knots. With a beam of 20.8 m and a draft of 4.5 m, she has a steel hull and aluminum superstructure. This adds up to a gross tonnage of 13,136 tons. Azzam can accommodate up to 36 guests and a crew of 60.
---
#2 Dilbar (2016) – LOA 156m – Lürssen Yachts (Naval Architecture: Lürssen Yachts, Exterior design: Espen Øino International, Interior design: Winch Design)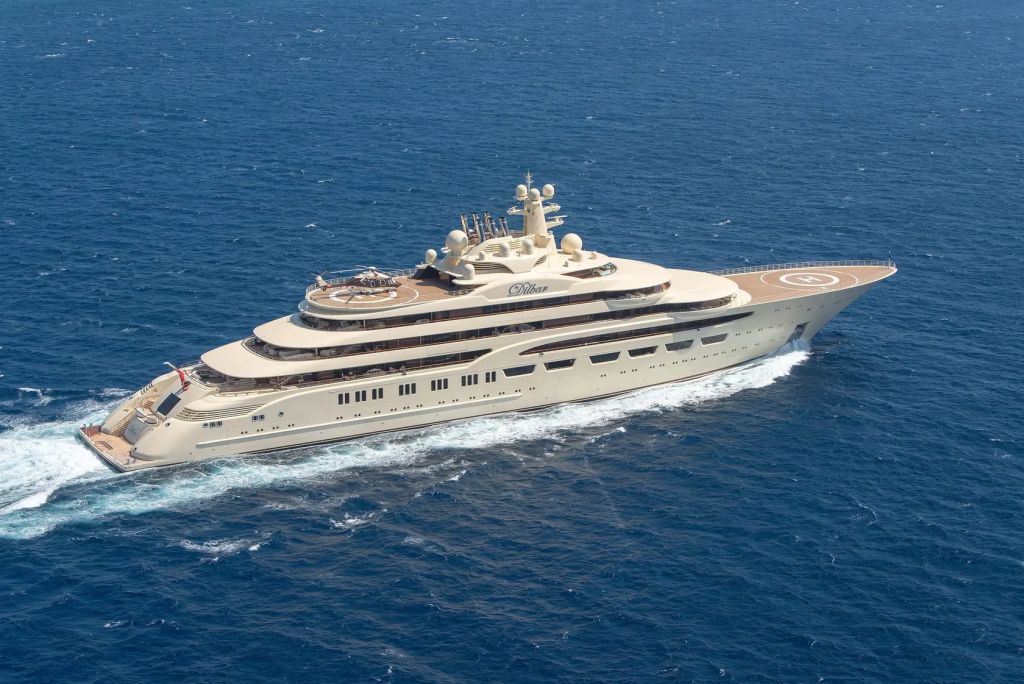 At 15,917GT the Lürssen yacht Dilbar is the largest motor yacht in the world by gross tonnage. Elegance and size are rarely synonymous; however, Dilbar is definitely the exception to the rule. Built under codename Project Omar, the 156-metre yacht was delivered in 2016, after nearly four and a half years in-build. Dilbar is one of the most complex and challenging yachts ever built, in terms of both dimensions and technology. As a matter of fact, the superyacht features entertainment and recreation spaces never before seen on a yacht. These include a 25-meter swimming pool that holds an incredible 180 m³ of water – the largest pool ever to have been installed on a yacht. However, her most notable features are the two helipads located on the bow and aft of the upper deck, which can safely hold Dilbar's dedicated H175 helicopter for up to seven passengers.
The exterior design – a classic profile with a light ivory hull and bronze accents – was penned by Espen Øino International, while her spectacular interior, developed by the Winch Design team, uses rare and exclusive luxury materials.
On board, she can accommodate 36 guests across 20 cabins, and is taken care of by a crew of 96. Thanks to modern technological innovations and a 30,000kw diesel-electric power plant, Dilbar is able to reach a top speed of 22.5 knots.
---
#3 S/Y A (2017) – LOA 142.81 m – Nobiskrug (Naval Architecture: Dykstra Naval Architects – Nobiskrug , Exterior design: Philippe Starck, Interior design: Philippe Starck)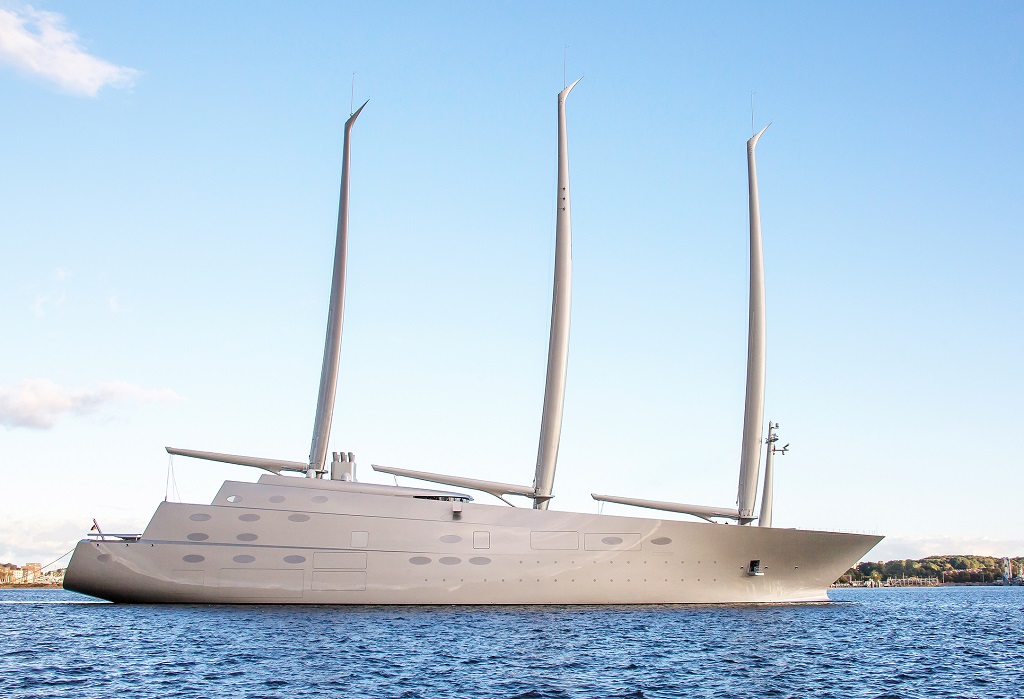 Measuring almost 143 meters, with a gross tonnage of about 12,600 GT, S/Y A was delivered by German yard Nobiskrug in 2017. She is one of the greatest PYC superyachts in the world in terms of design and technology. The 142.81 metre sail-assisted motor yacht is one of the world's largest and most advanced superyachts. S/Y A is a sharp, three-masted motor yacht constructed mostly in steel incorporating composite and carbon fibre to keep weight down. Working with the dedicated Owners project team (led by Dirk Kloosterman), Nobiskrug engineered and constructed a masterpiece, which still leads the way with her revolutionary engineering and design. The three masts are the tallest and most highly loaded freestanding composite structures in the world. The mainmast towers 100 meters above the waterline.
World-renowned Philippe Starck created the unconventional design, which challenges the expectations of conventional aesthetics as he did for Motor Yacht A. Every part of her interior has been designed to be flowing and organic.
A has eight decks, connected by multiple elevators and free-floating spiral staircases, garages for four tenders and a submarine, as well as a touch-and-go helipad on the bow. Key features on board also include an underwater observation pod, a hybrid diesel-electric propulsion system and state-of-the-art navigation systems. With an incredible living space available, S/Y A can accommodate up to 20 guests and a crew of 54. Thanks to her twin 4,827hp MTU diesel engines, she can reach a top speed of 21 knots.
---
#4 Flying Fox (2019) – LOA 136m – Lürssen Yachts (Naval Architecture: Lürssen Yachts, Exterior design: Espen Øino International, Interior design: Mark Berryman Design Ltd)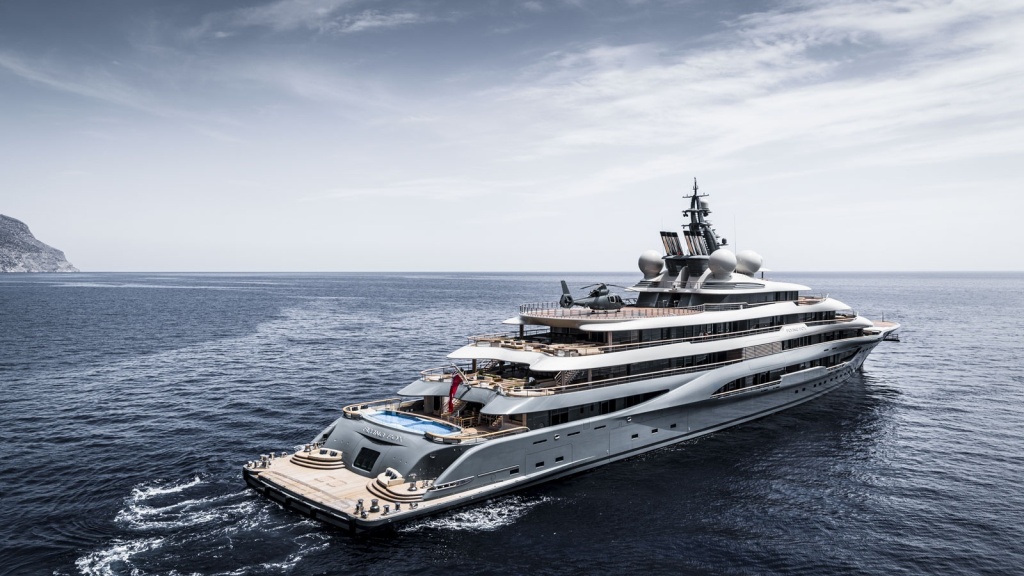 Built under codename Project Shu, the 136-meter Flying Fox was delivered by German shipyard Lürssen in 2019. With an estimated 9,100 GT, Flying Fox has seized the crown as the world's largest yacht available for charter, becoming the new definition of tailor-made and unique charter journey, thanks to an impressive array of guest-pleasing amenities. Flying Fox can cruise up to 36 guests on board, in 11 cabins for 25 guests in night mode, all with private sea view terraces.
The 136-metre, six-deck Lürssen superyacht is one of the very few in her class that has raised the industry's standards to heights once believed unrealistic. The owner's passion for watersports and wellness defines this luxury yacht: her whole aft end is a two-deck temple to on-water fun and relaxation. Other key features include two helipads, capable of accommodating the world's largest helicopters, a 12-metre transverse swimming pool nestled into her aft deck, a 400-qm two-floor SPA. Flying Fox also boasts several large sea terraces, as well as swim platforms for watersports, an incredible array of water toys, a professional dive centre and the first cryosauna ever installed on a yacht.
Her extraordinary exterior design, complimented by her dove grey hull, was penned by renowned Monaco-based designer Espen Øino. The interiors are by Mark Berryman. The décor is clean-lined, contemporary, functional and tactile, with Japanese influences. Since the aim is a feeling of calm, the interior design centres on a small palette of neutral and subdued colours, materials and finishes for a cohesive look.
---
#5 Serene (2011) – LOA 133.9m – Fincantieri Yachts (Naval Architecture: Espen Øino International , Exterior design: Espen Øino International, Interior design: Reymond Langton Design – Luca Dini Design & Architecture)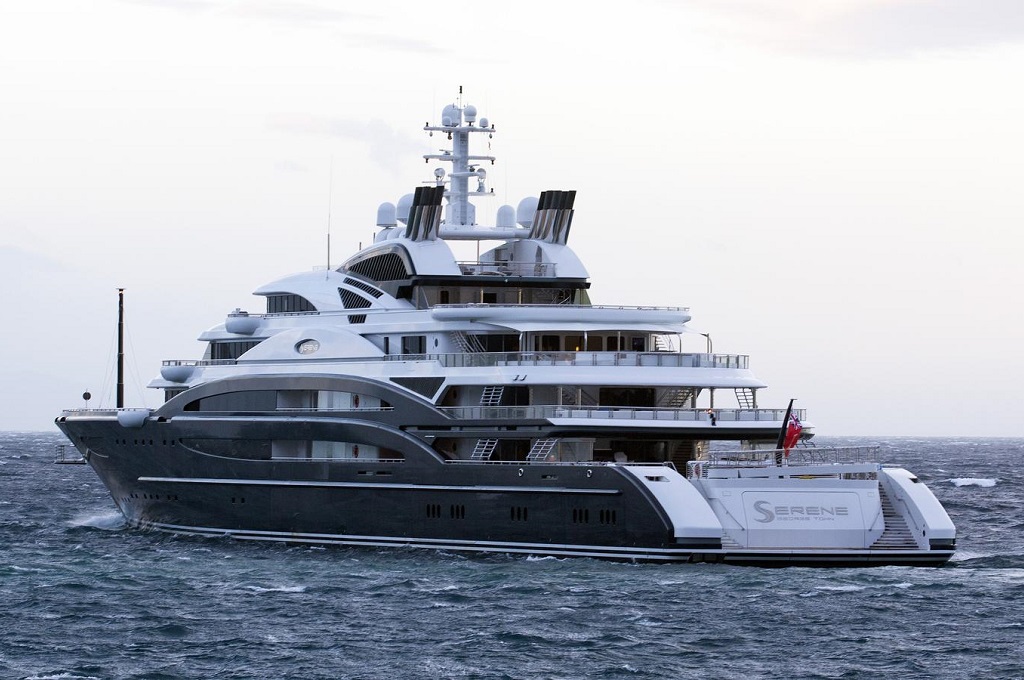 Delivered in 2011 by Fincantieri Yachts, the 134-metre motor yacht marked the yard's debut in the sea's most exclusive market segment. Unforgettable since her first appearance, Serene is one of the largest yachts in the world. A benchmark in technology and style, Serene reflects the Muggiano-based shipyard's attention for the sea, innovation and owner satisfaction.
The megayacht features naval architecture and exterior design from the renowned Espen Øino International and an interior designed by Pascale Reymond from Reymond Langton Design. The exterior, developed from a groundbreaking concept design, features a long, sleek blue hull, crowned by a white superstructure.
Amongst her long list of attractive amenities are two helipads, a hangar, a tender garage suitable to fit a large submarine, an impressive internal sea-water swimming pool, which can accommodate a service craft, and a submarine with a diving depth of up to 100m.
With a total of 2,700 square metres of interior living space and seven spacious decks, motor yacht Serene is equipped with an ultra-modern stabilization system which reduces roll motion effect and results in a smoother more enjoyable cruising experience underway.
Serene can comfortably accommodate up to 24 guests in 12 cabins, and up to 62 crew onboard in 30 cabins, to ensure a relaxed luxury yacht experience.
---
#6 Al Lusail (2017) – LOA 123m – Lürssen Yachts (Naval Architecture: Lürssen Yachts, Exterior design: H2 Yacht Design, Interior design: March & White)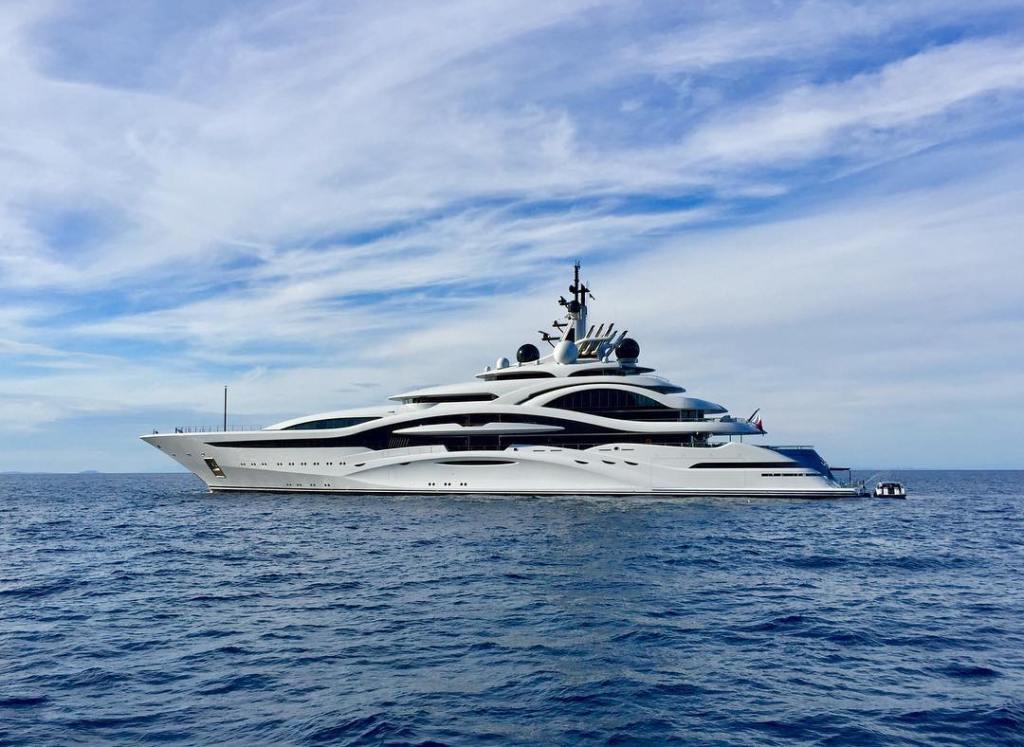 Formerly known as Project Jupiter, the 123-metre luxury motor yacht Al Lusail was built by Lürssen in Germany and delivered to her owner in 2017. Named after the new city of Lusail in Qatar, Al Lusail currently stands within the world's top 30 largest motor yachts.
The yacht features in-house naval architecture and a pioneering exterior design by British studio H2 Yacht Design. Al Lusail boasts a unique curvaceous carved-out exterior profile, with a contemporary look, which has turned heads across the industry. Sporty and aggressive, the megayacht features flowing lines, which blur the boundaries between the upper four decks and create a dynamic look. The interior – designed by March & White – is best described as eclectic, with some great elements, such as central atrium which allows natural light to fill the interior down to the lower deck. Custom finishing and nautical touches are present in the design to create the unique décor. The yacht has a number of innovative features and amenitie: a foredeck helipad, a swimming pool, a beauty salon, a beach club and a cinema. At night, the exterior lights up using underwater illumination and strip lighting, which follows her curves to create an outline in the darkness that can be seen from afar.
With voluminous interior spaces, Al Lusail offers accommodation for up to 36 guests. She is also capable of carrying up to 56 crew onboard to ensure a relaxed luxury yacht experience. Al Lusail is a private yacht, not available for charter.
---
#7 M/Y A (2008) – LOA 123m – Blohm & Voss (Naval Architecture: Francis Design – Blohm & Voss, Exterior design: Philippe Starck, Interior design: Philippe Starck)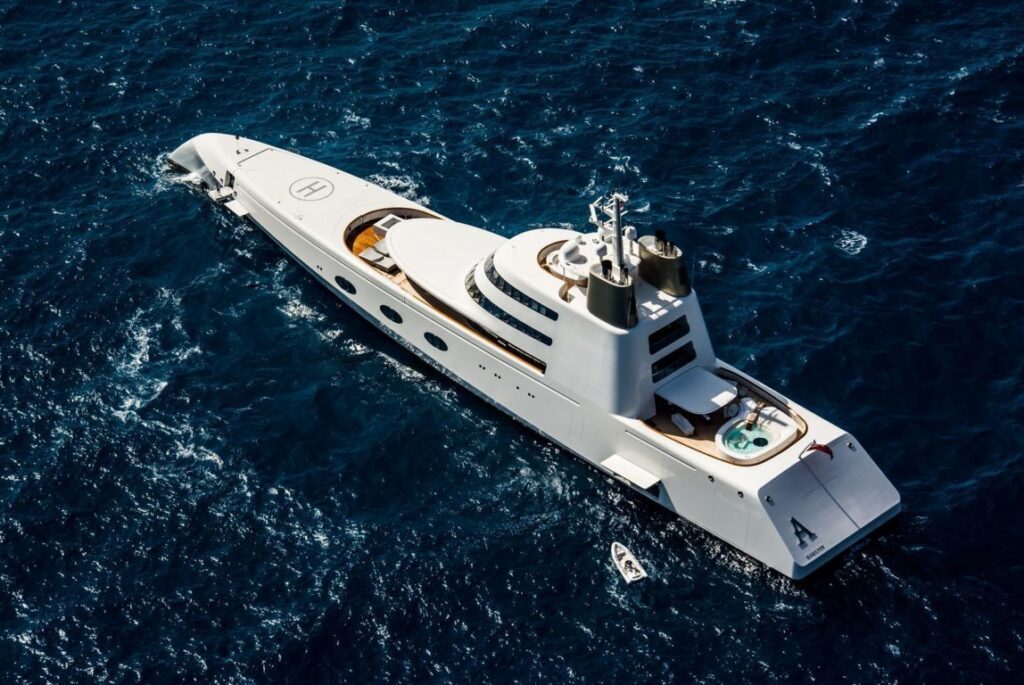 Built by Blohm & Voss under codename Project Sigma, the 119-metre luxury motor yacht A was delivered to her owner in 2008. With a beam of 18.87m and a draft of 5.15m, she has a steel hull and aluminium superstructure.
This astonishing yacht was designed by Philippe Starck – exteriors and interiors – , with naval design by Martin Francis; Dirk Kloosterman, acting as the owner's representative, was the Project Manager. Her shape has evoked comparisons with submarines and stealth warships: A is a futuristic vessel with an axe bow, a hull that reminds of a sleek submarine and a superstructure that clearly resembles the lines of a sub's conning tower. Starck's intention was to make her blend with the sea, to have her live in "harmony" with the elements. As a matter of fact, Starck himself defined this superyacht "more like a fish than a building".
The yacht, with an extremely elegant interior design, features two large water areas on her main deck: a glass fronted swimming pool in front of the superstructure and a massive whirlpool aft of the superstructure. Key features on board also include: a Jacuzzi inside the main salon, a helipad, a SPA and a wellness area.
A is equipped with an ultra-modern stabilization system which reduces roll motion effect and results in a smoother, more enjoyable cruising experience underway. Powered by two 6035hp diesel engines, giving her a max speed of 23 knots and a cruising speed of 19.5 knots, A can accommodate 14 guests in 7 cabins taken care of by a qualified crew of 42.
---
#8 Kaos (ex Jubilee) (2017) – LOA 110.1m – Oceanco (Naval Architecture: Azure Yacht Design – Oceanco, Exterior design: Igor Lobanov, Interior design: Sam Sorgiovanni Designs – Reymond Langton Design)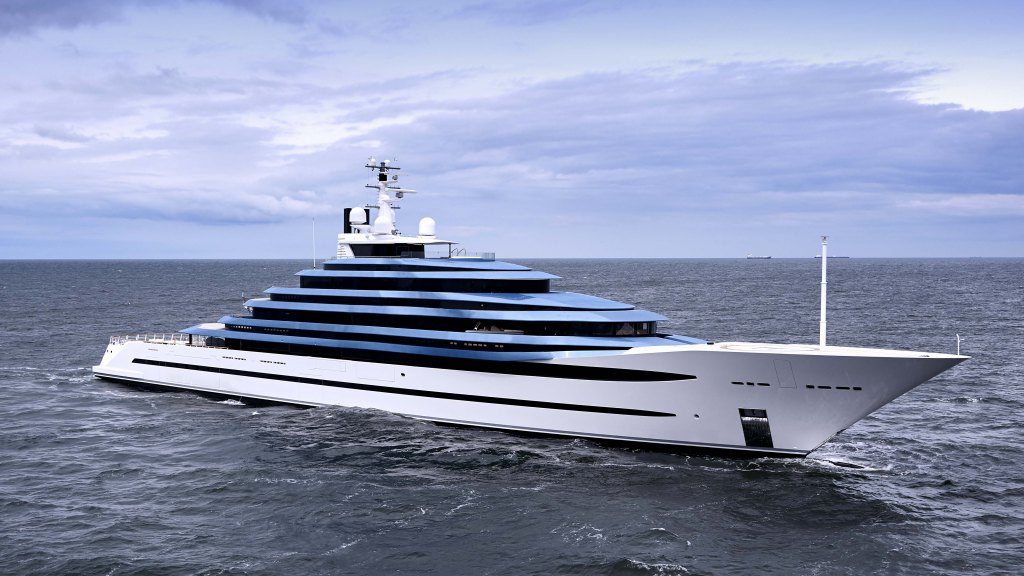 Built in steel and aluminium by Dutch yard Oceanco to a design by Igor Lobanov, Kaos – formerly known as Jubilee – was first delivered in 2017 as the largest yacht built in The Netherlands. The interior, originally designed by Sam Sorgiovanni, accomodates 30 guests in 15 cabins. Four VIP cabins sit on the bridge deck, while a further 10 guests suites are located on the main deck. Kaos also features an entirely private owner's deck that enjoys unmatched views.
The 110-metre Oceanco yacht Kaos was redelivered to her owners by German yard Lürssen following a year-long intensive refit at the Lürssen Blohm + Voss facilities in Hamburg that started in March 2019. This redelivery marks the end of Lürssen's biggest refit to date. The refit, resulting in modifications to both her interior and the exterior, was overseen by Burgess Technical Services.
"We are very satisfied. It was a complex refit that was challenging at times, but it has been very successful", comments York Ilgner, director Lürssen Yacht Refit. With some noticeable exterior changes styled by Sam Sorgiovanni, Lürssen reports that most of the refit work occurred inside the yacht. "What you see from outside already looks significant, but the majority of the work was done on the interior", says project manager Thomas Dapp. "Overall, we renewed 1,500 square metres of interior spaces". Reymond Langton was selected by the yacht's new owners for the interior design of the project: existing spaces were masterfully redesigned and new ones were creating as well.
---
#9 Luminosity (ex Zoza) (2020) – LOA 107.6m – Benetti (Naval Architecture: Benetti, Exterior design: Azure Yacht Design – Reymond Langton Design – Giorgio Cassetta – Zaniz Interiors, Interior design: Zaniz Interiors )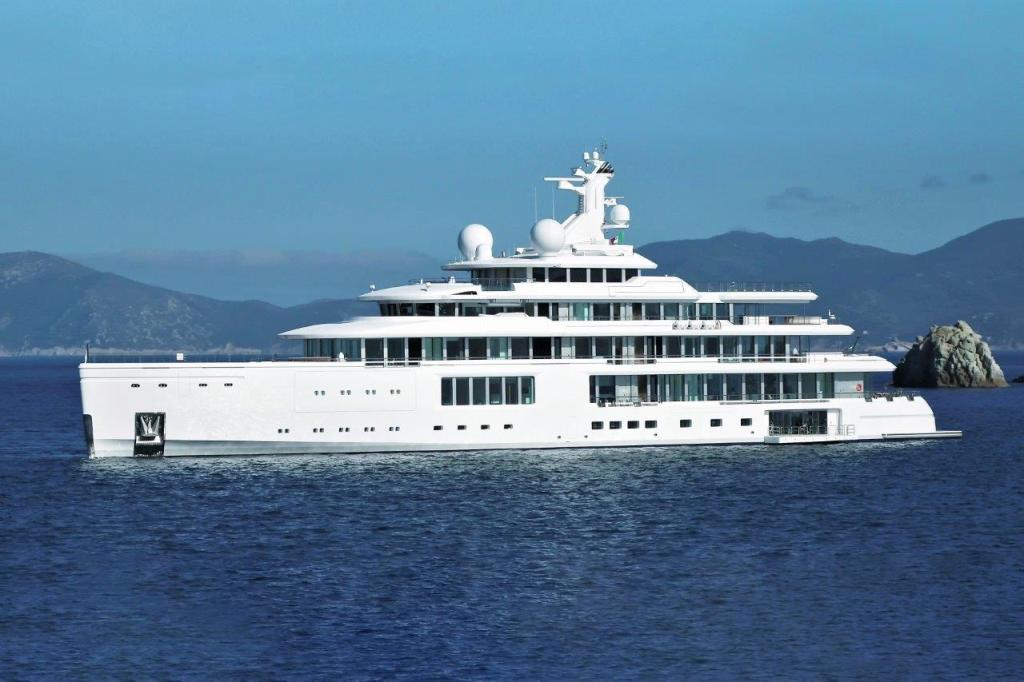 Built by Benetti and delivered in 2020, Luminosity has been designed to impress. The 107.6-metre megayacht boasts the largest hybrid battery drive on a yacht, state-of-the-art power management and heat recovery systems. Wrapped in over 800 sqm of windows that surround the main deck, Luminosity was dubbed "a glass palace in movement", gifting an unparalleled view that is continuously changing depending on the surrounding area.
Both her exterior and interior design are characterized by vast portions of glazing which lend her a distinctive profile and drench her interiors in natural light, making her well-deserving of her name. Luminosity features elegant interiors penned by Zaniz Jakubowski, while her exterior styling is the result of a collaboration between Zaniz, Reymond Langton Design, Giorgio M. Cassetta and Azure Yacht Design.
Luminosity boasts a wide range of amenities, including a conference room, "moon lounge", spa, gym and hammam. The expansive wellness area on the lower deck features a 30 sqm counter-flow swimming pool, a cold plunge pool and a botton that rises to transform the space – when not in use- , into a dance floor. The beach club connects the swim platform to the wellness centre via a lounging area with a long bar, making a great backdrop for socialising and entertaining. The superyacht also features an interactive video wall that wraps around the central staircase, displaying any custom images, as well as fold-down sea terraces that create an ocean-level living space. She features a fully-certified helideck on the aft, as well as an additional touch-and-go on the foredeck.
---
#10 Black Pearl (2018) – LOA 106.7m – Oceanco (Naval Architecture: Oceanco / Dykstra Naval Architects, Exterior design: Ken Freivokh / Nuvolari Lenard, Interior design: Ken Freivokh / Nuvolari Lenard / Villate D.)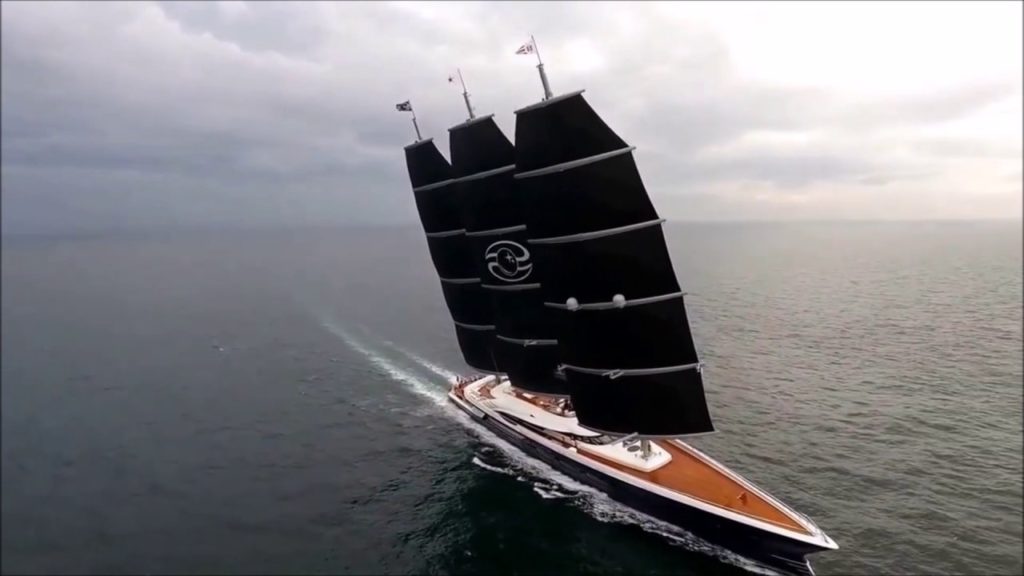 The 106.7-metre three-masted sailing yacht Black Pearl is the largest sailing yacht in the world, and she is unlike any yacht the world has ever seen. According to Oceanco, all 2,900 square metres of sails can be set in a record seven minutes with the push of a button.
Since her launch in September 2016, Black Pearl has proven to be a new generation landmark sailing yacht with a unique identity. Commissioned in 2010, launched in 2016 and finally delivered to her experienced owner in 2018, Black Pearl has attracted plenty of interest during the entire production process and beyond.
The tri-deck sailing yacht was built from a steel hull and an aluminium superstructure, and she can reach an impressive top speed of 30 knots under sail. Black Pearl was developed in collaboration with an all-star cast of designers — Dykstra Naval Architects, Ken Freivokh, Nuvolari Lenard, BMT Nigel Gee and Gerard P. Villate. BMT Nigel Gee collaborated with Oceanco to create Black Pearl's hybrid propulsion system as well as other onboard systems such as waste heat-recovery, that helped to realize the owner's vision of a "zero-impact" yacht. In addition, the yacht boasts unique onboard features such as her state of the art DynaRig system, a hybrid propulsion package and power regeneration mode when underway, which makes her one of the most innovative yachts on the water today.
In addition to wind power, she is powered by 2 x 1080kW MTU's / 2 x 400kW electrical propulsion motors.
---
#11 Maltese Falcon (2006) – LOA 88m – Perini Navi (Naval Architecture: Dykstra Naval Architects – Perini Navi, Exterior design: Ken Freivokh Design, Interior design: Ken Freivokh Design)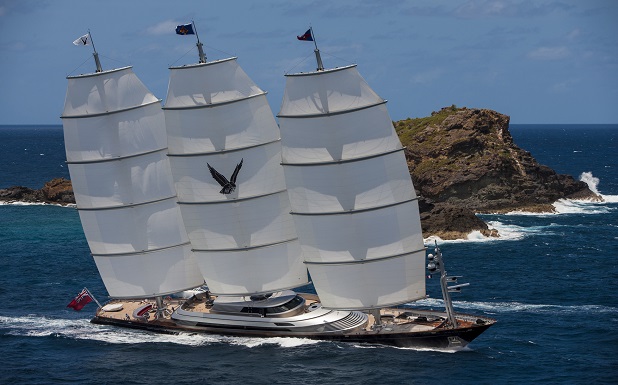 One of the most iconic superyachts on the water, the 88-metre sailing yacht Maltese Falcon broke the mold of yacht design when was launched in 2006, and she still turns heads wherever she cruises. Delivered from sailing yacht experts Perini Navi in 2006, the multi-award-winning Maltese Falcon is one of the most universally recognizable sailing yachts in the world. Maltese Falcon pioneered the revolutionary sailing system now known as the Falcon Rig, which is made up of three 58-metre unstayed, 'weapon-grade' carbon fibre masts, with a fully computerised sail and rotating mast system and unprecedented automation and safety features. The Rig has been dubbed a triumph of design, development and engineering, and it has allowed this 88-metre yacht to reach the incredible speed of 25 knots.
Cutting a truly distinctive profile, the Maltese Falcon features both interior and exterior designs from world-renowned Ken Freivokh. The interior is every bit as impressive as the exterior, with a range of colourful finishings making it truly unique. Balancing contemporary artwork with more traditionally inspired furnishings, the interior features high quality leather, wood, steel and glass.
Maltese Falcon keeps her guests entertained with a wealth of leisure facilities, ranging from a dedicated reading room to a fully-equipped gymnasium, a spa, a massage room, a collection of water toys and tenders, not to mention a deck Jacuzzi. As one of the most iconic superyachts available for charter, she can accomodate up to 12 guests, with 19 crew members.
---
#12 Ace (2012) – LOA 87m – Lürssen Yachts (Naval Architecture: Lürssen Yachts, Exterior design: Winch Design, Interior design: Winch Design)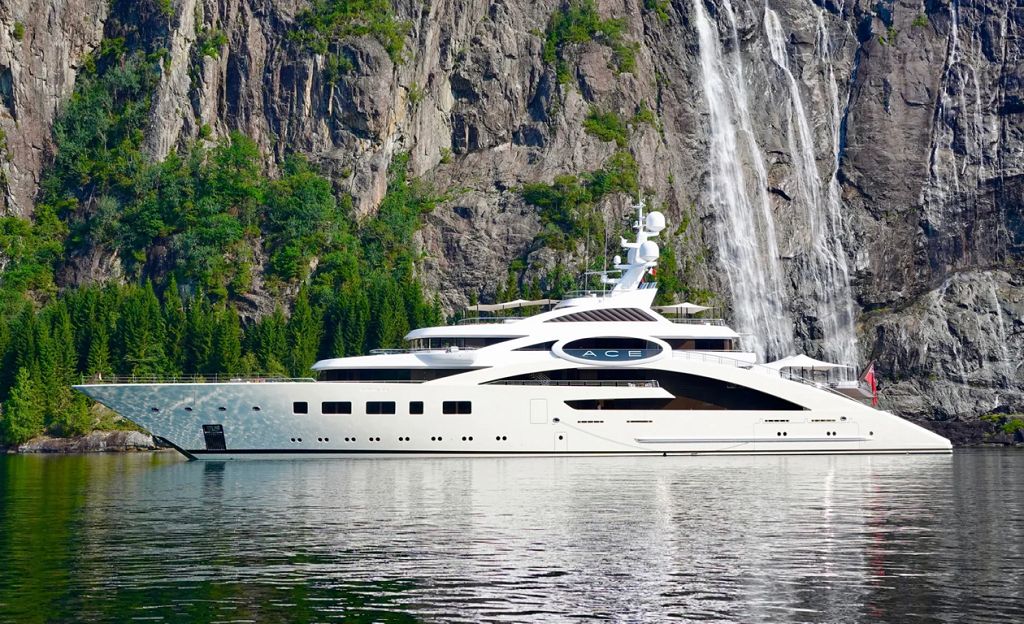 Built by Lürssen Yachts in 2012, the 87-metre Ace was last refitted in 2019. She is instantly recognisable from the sweeping arches that her designer Andrew Winch, responsible for the exteriors and the interiors, linkens to the "fantastic power of wave", to what everyone refers to as her "eyes": two neat oval balconies emblazoned with the yacht's name in stainless steel. "Ace reflects her passionate and enthusiastic owner", said Robert Moran – president of Moran Yacht & Ship – whose team guided the project from inception to completion. With a beam of 13.8 metres and a 4-metre draught, Ace boasts an unusual exterior design, with sweeping forms, curves and lines, which characterize the oval balconies and the large side-arches. Located at her center line amidships on her bridge deck is a large oval form which focuses the yacht's exterior flow. Located to aft on the lower deck yacht Ace features very large tender garage doors. She also has another opening in her hull used as a tender docking area and a beach style swimming platform. Her support vessel is Amels' 67-metre Garçon 4 Ace.
Ace was built for the utmost relaxation. She features one of the most comprehensive wellness areas seen in a superyacht with sauna, massage and shower room and a large Roman-style marble bath, complete with columns, all easily accessed from the beach club. A gym, a hair salon and a movie theatre complete the offer.
Ace can accommodate up to 10 guests overnight in 6 cabins; Ace is equipped with three generators – one 570kW and two 480kW MTUs and she also has MTU 16B 4000s engines.
---
#13 Bold (2019) – LOA 85m – SilverYachts (Naval Architecture: Espen Øino International, Exterior design: Winch Design, Interior design: Vain Interiors)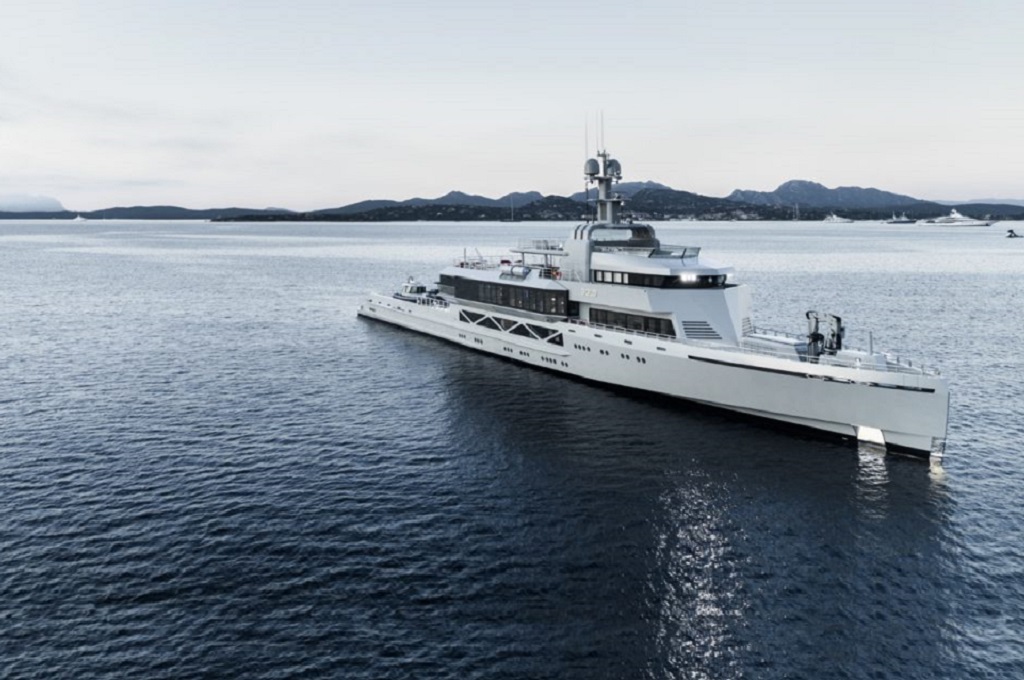 Known as Silver Loft during construction, the 85-metre Bold was built by SilverYachts and delivered in 2019. Described as "a fast world explorer vessel with a genuine, fully-fledged superyacht finish", Bold is the largest yacht ever built in Australia. She features exteriors by SilverYachts in-house team in collaboration with designer Espen Øino and an interior by Andreas Hölnburger of Vain Interiors. Bold features an all-aluminium design and her layout centres around an impressive 300sqm sky lounge with full-length 3,75-metre tall windows to allow in plenty of light. Designers tried to combine two directions in the yacht – nature and the modern style of the city. The contemporary interiors – which emulate the feeling of being inside a New York apartment – include teak and oak panelling, metallic painted features combined with oak and marble floors.
The Bold's low draft and highly optimised hull form guarantee a remarkably low fuel consumption, fast repositioning and access to shallow cruising grounds – unusual for yachts of her size. Built with an explorer philosophy in mind, Bold boasts what might be the ideal superyacht helicopter pad, with certified primary helideck complete with over 3,000 litres of helicopter fuel storage. Other features on board include: a glass-fronted spa pool, a bar on the bridge deck and a massage room that can serve as a hospital if need be.

She can sleep up to 16 guests including owner and, thanks to her twin MTU 16V 4000 M73L engines, Bold can reach a top speed of 24 knots and cruises at 18 knots up to 5,000 nautical miles.
---
#14 Savannah (2015) – LOA 83.5m – Feadship (Naval Architecture: De Voogt Naval Architects, Exterior design: Cristina Gherardi Design / De Voogt N.A., Interior design: Cristina Gherardi Design)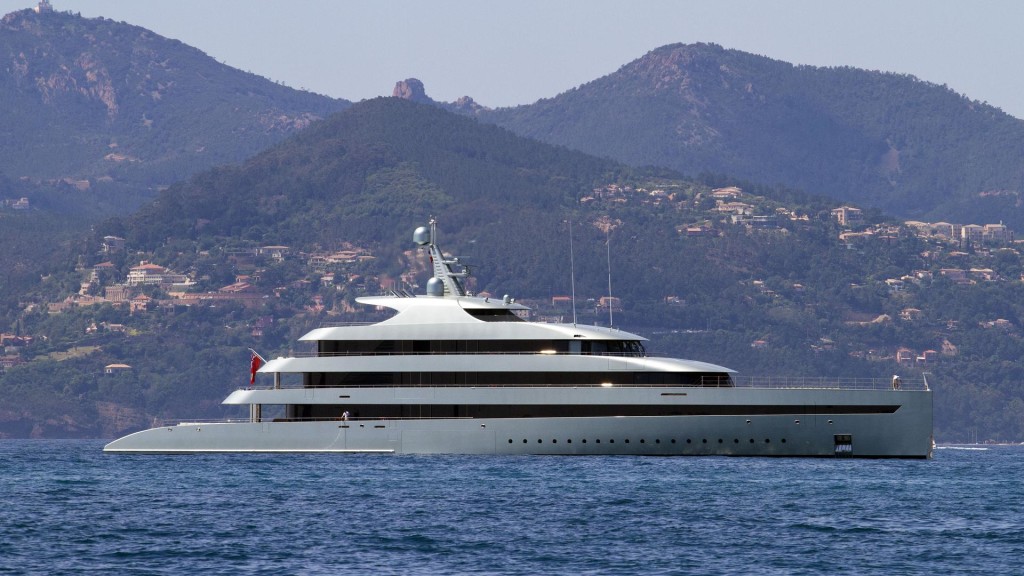 Since her launch in 2015 at Feadship shipyard, 83.50-metre luxury superyacht Savannah is innovative in every way. She is the world's very first hybrid superyacht with a one million watt battery pack as part of a clean and quiet electro-mechanical propulsion platform, which is allied to an efficient hull design for unforgettable and conscientious cruising. She is also the first superyacht with a profile painted entirely in metallic, which makes her the world's largest metallic-painted floating object.
Mixing a very impressive but elegant design with the best eco-credentials, Savannah features a timeless styling and very exclusive furnishings, which create an elegant and comfortable atmosphere. The yacht's interior has been designed by Cristina Gherardi Design and her exterior styling is by Feadship & CG Design. The changing hues of the sea and sky were CG Design's inspiration of her silver/green custom-blended colour.
Other features on board Savannah include a 10-metre swimming pool – which displays a colourful glass mosaic by British artist Cecily Brown -, an under-the-water lounge (Nemo Room), a full Beach Club, a private Sun deck with DJ station and BBQ, a fully-equipped Gym, a very exclusive on-board wellness area and an elevator serving all decks.
Available for charter with an impressive list of destinations, Savannah can accomodate up to 12 guests in 6 rooms, carrying up to 24 crew onboard.
---
#15 Alfa Nero (2007) – LOA 82m – Oceanco (Naval Architecture: Azure Yacht Design – Oceanco, Exterior design: Nuvolari Lenard, Interior design: Alberto Pinto)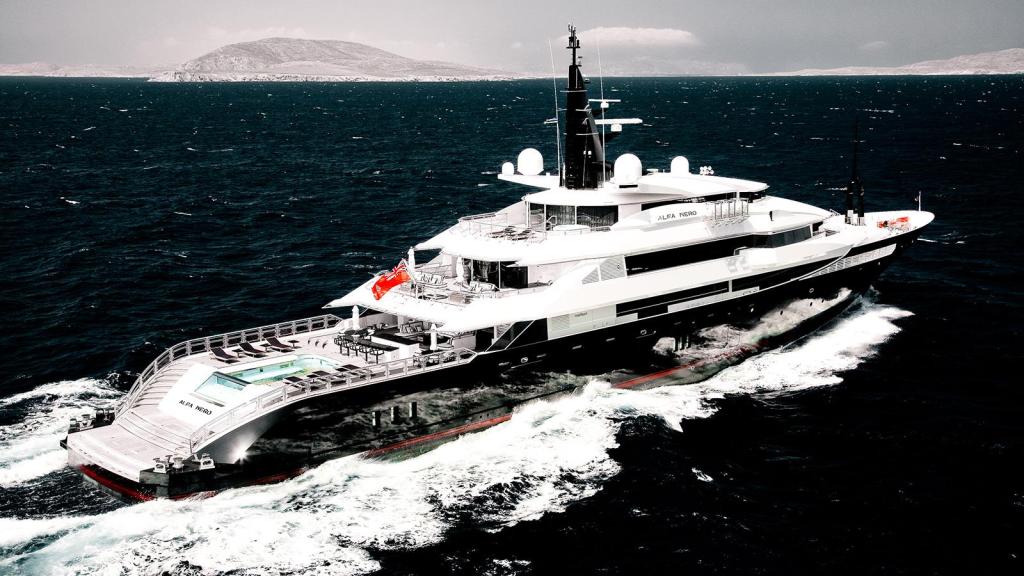 Built by Oceanco, Alfa Nero is the perfect combination of performance and luxury. One of the yacht's most notable features is the infinity swimming pool on the main aft deck: when the pool water is drained, the teak floor emblazoned with a large "H" raises flush to the main deck and converts into a helicopter pad or dance floor. At the time of her delivery in 2007, this was positively revolutionary.
Her exterior design, penned by the Italian design studio Nuvolari & Lenard, still looks modern after 13 years. The designers clearly agreed with the notion that the ultimate luxury afloat is open space. In fact, with four decks to play with, they could afford to be exceptionally generous in their use of space. The interior, designed by the renowned Italian designer Alberto Pinto, combined exquisite hardwoods, leather, elegant fabrics and metals into a classic contemporary style, to create a luxurious atmosphere, while maintaining a nautical theme.
Alfa Nero can accommodate 12 guests in six lavish cabins including an indulgent master stateroom, two double VIP suites, one double guest cabin and two twin guest cabins.
This stunning 82 metre yacht is a unique masterpiece, she was built to inspire and to become a legend from the very moment she was launched. In a testament to her iconic status, subsequent owners have not changed her name.
---
#16 Exellence (2019) – LOA 80m – Abeking & Rasmussen (Naval Architecture: Abeking & Rasmussen, Exterior design: Winch Design, Interior design: Winch Design)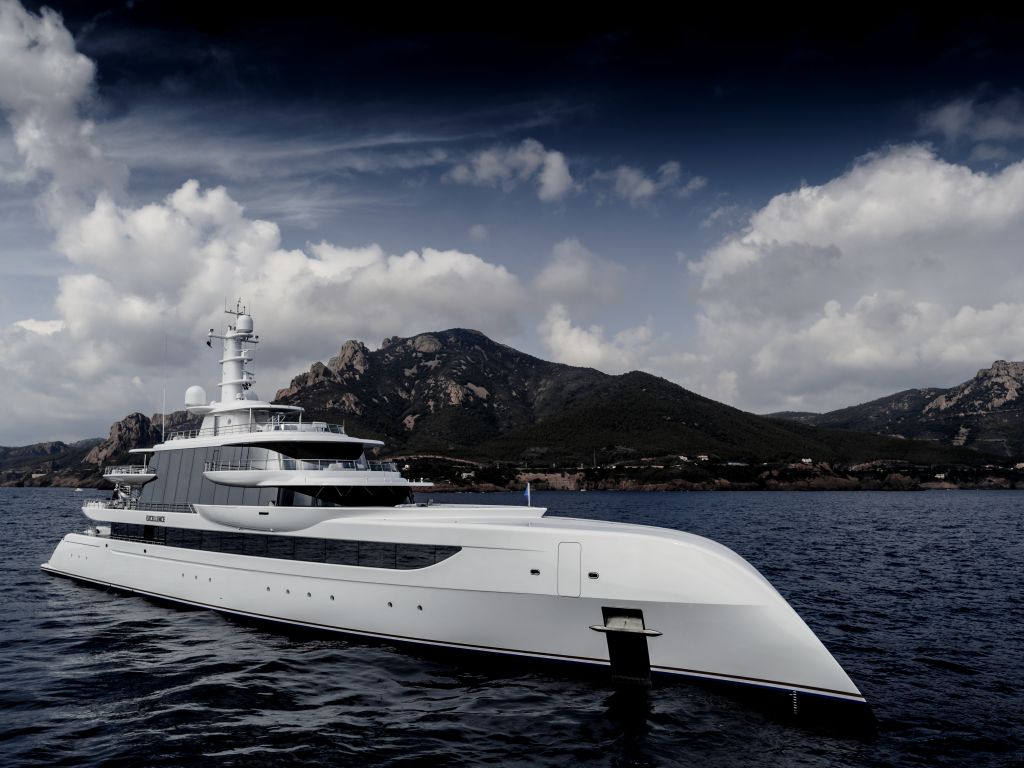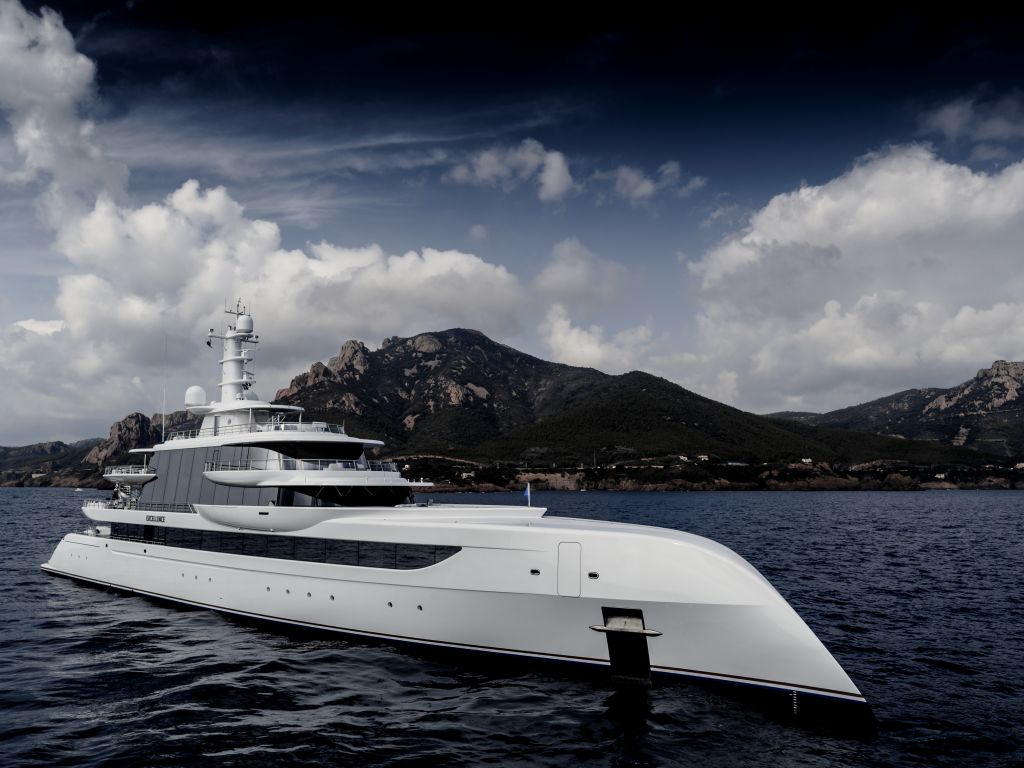 With her heavily reversed bow and acres of glass, 80-metre Excellence is one of the most distinctive yachts built in recent years. Delivered in 2019 by the German yard, Excellence has a striking exterior styling, as well as interiors, which come from Winch Design. Working closely with Winch Design and the renowned Abeking & Rasmussen shipyard, in this groundbreaking build the owner's vision, attitude and knowledge is evident throughout every square centimetre, and the result is an award-winning yacht with many unique and radical features.
With an angular bow and curvaceous lines, she has been described by the studio as 'iconic and futuristic' with a profile 'comparable to a spaceship'. Flooded with the natural light that flows through the triple-height glass atrium and the full-height windows, her interior is at one with the surroundings. Winch Design's interior style softens the enormous guest areas, decorated in a blend of mid-tones with occasional splashes of bright colour. A variety of woods combines with fine Italian leathers and a selection of marble shades for the fixed furniture.
Amongst her long list of attractive amenities are a large swimming pool with a swim-up bar, a deck jacuzzi, a large beach club, a pair of limousine tenders, a nine-seat cinema room, a spa, a sauna and a full-equipped gym. She can accomodate up to 14 guests, with 23 crew members.
Powered by twin MTU 12V 4000 M65R diesel engines, Excellence cruises at 14 knots with a max speed of 17 knots.
---
#17 Artefact (2020) – LOA 80m – Nobiskrug (Naval Architecture: Nobiskrug, Exterior design: Gregory C. Marshall Naval Architect, Interior design: Reymond Langton Design)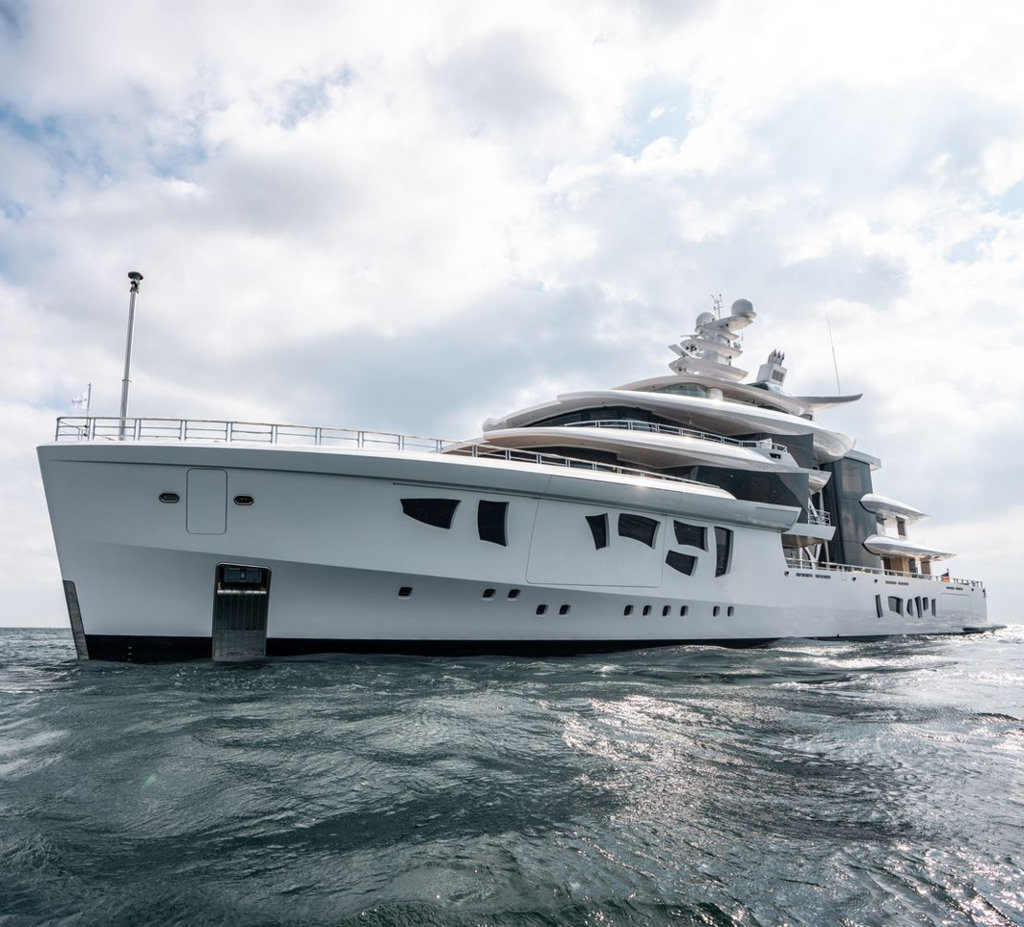 Built as a hybrid futuristic superyacht, Nobiskrug 80-metre superyacht Artefact was delivered in March 2020. Commissioned by a visionary and technically-minded owner, Artefact is the result of nearly two and a half years of research and development. Her eye-catching exterior are by Gregory C. Marshall, while her unique and ground-breaking interior was penned by Reymond Langton.
Artefact's innovative design is distinguished by a number of new technological and engineering features, and it reflects the Owner's wish to ensure environmental responsibility and cutting-edge innovation. Her unique profile is created through glass panels – around 750 sqm and 58 tonnes of glass have been used in total – and she is believed to have the highest ratio of glass to LOA for any yacht in her size. The composite materials used to build the superstructure made the flexibility in the design possible and provided crucial weight savings needed from the huge amounts of glass used.
Another stand-out feature of Artefact is her sophisticated hybrid propulsion system. Artefact meets IMO Tier III emissions regulations, featuring an innovative diesel-electric propulsion system which makes her up to 30% more efficient than conventional diesel propulsion yachts of her size.
In terms of eco-credentials, Artefact boasts 23 sqm of solar panels on the sundeck hardtop, providing around 6kW of auxiliary power. A large battery storage system allows her to operate without internal combustion engines for short periods of time.
---
#18 Pi (ex Syzygy 818) (2019) – LOA 77.25 m – Feadship (Naval Architecture: De Voogt Naval Architects, Exterior design: Jarkko Jämsén – Aivan, Interior design: Sinot Yacht Architecture & Design)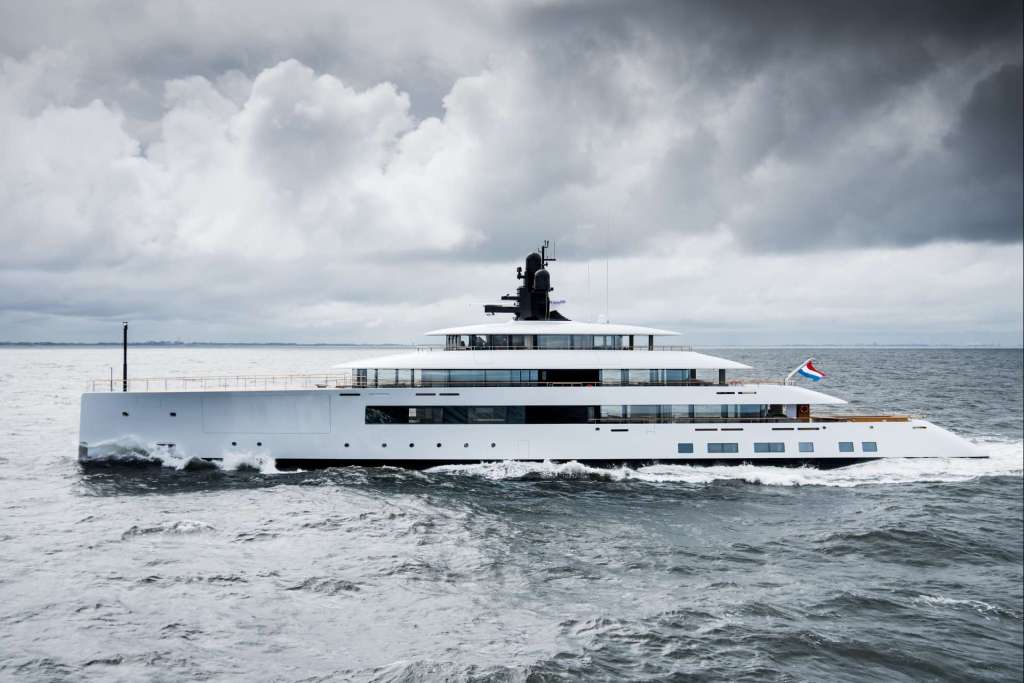 Formerly called Syzygy 818, Pi is a custom build delivered by Feadship in 2019. With a beam of 11 metres, Pi boasts a steel hull and aluminium superstructure and double-curvature glass windows drawing plenty of light inside.
Her exterior was designed by Jarkko Jämsén – Aivan, and this represented his inaugural superyacht project. Her exterior lines are noteworthy for their extraordinary use of double curvature structural glass. The interiors, which incorporate Japanese styling and décor, are the work of Sinot Yacht Architecture & Design.
As a pure custom luxury yacht, Pi has been personalised for her Owner and has top-of-the-line glass technology to create the curvaceous superstructure from the computerised 3D design. The Owner also had sustainability goals that needed to be met, and to reach these the electronics and engineering had to provide excellent fuel efficiency.
Pi boasts several luxurious amenities, including an enormous beach club with two sea terraces, a spa center, a touch-n-go helipad, a swimming platform, a glass-bottomed pool and a tender garage.
Pi's interior configuration has been designed to comfortably accommodate up to 12 guests. Powered by 2 MTU (16V 4000 M63) 2,700hp diesel engines and propelled by her twin screw propellers, Pi is capable of a top speed of 18.4 knots, and comfortably cruises at 16 knots.
---
#19 Atlante (2015) – LOA 54.8m – CRN (Naval Architecture: CRN, Exterior design: Nuvolari Lenard, Interior design: Gilles & Boissier)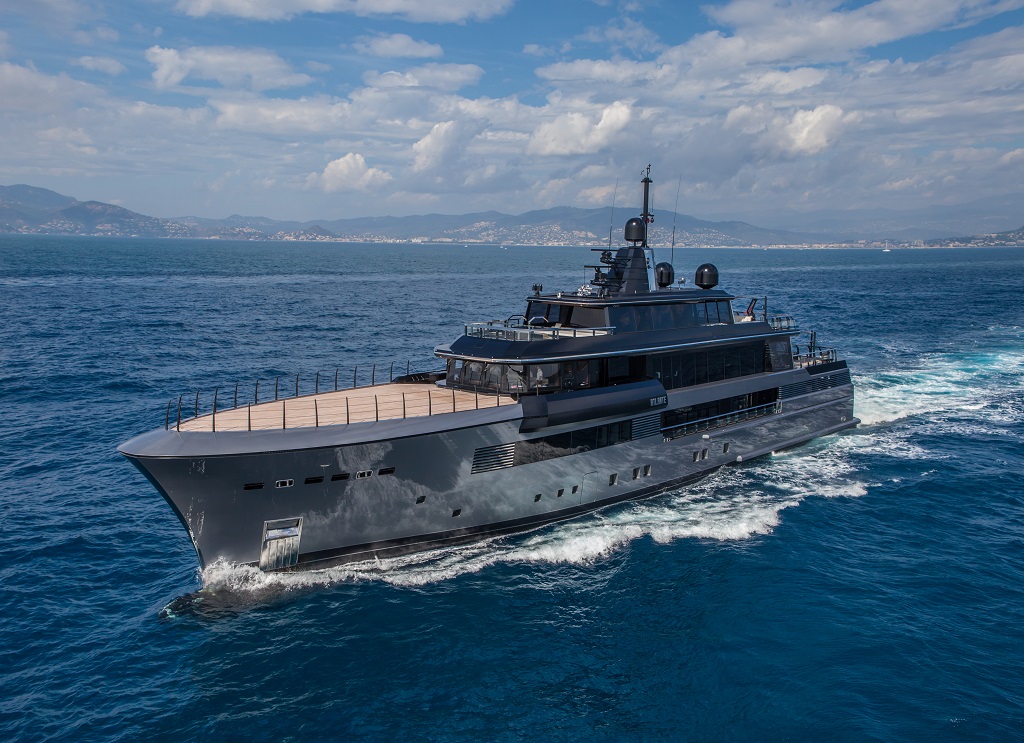 Atlante is a 55-metre yacht launched in 2015 by the Italian shipyard CRN. Her exterior, characterized by a military design and sharp lines similar to naval vessels, was penned by Venice-based Nuvolari Lenard design studio. This five-deck displacement superyacht built of steel and aluminium catches one's eye with a gun metal grey hull and black superstructure. Atlante features an interior design created by CRN's in-house team in collaboration with Gilles et Boissier architectural studio.
One of Atlante's main features and certainly the most notable, is the extensive use of precious marble throughout. Unlike on the majority of the superyachts, marble can not only be found in the bathrooms but also decorates the walls or floors.
Atlante boasts with all amenities including a sophisticated audio visual entertainment system, a well-equipped gymnasium and a spa with a massage table and a Turkish bath. Atlante also offers a touch-and-go helicopter pad for a helicopter of up to three tonnes to land. Atlante can accomodate up to twelve guests in one full-beam owner suite and four deluxe VIP cabins. All cabins feature beautifully executed interior design and highest quality materials, furnishings and amenities. All come with private en suite marble bathrooms.
Atlante is powered by twin 1230 KW @ 1800 RPM CATERPILLAR diesel engines, delivering a top speed of 15 knots and a cruising speed of 14 knots.
---
#20 Exuma (2010) – LOA 80m – Perini Navi / Picchiotti (Naval Architecture: Philippe Briand, Exterior design: Vitruvius, Interior design: Perini Navi)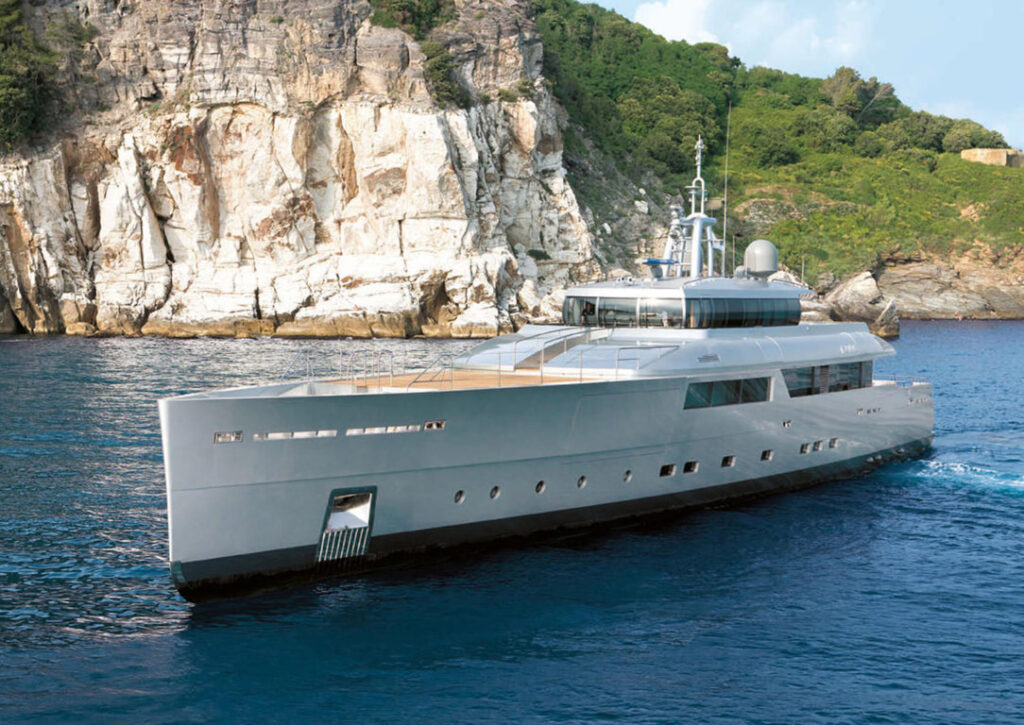 Exploration is what she is all about. In the time she has been on the water, Exuma has shown that she is capable of long distance navigation in all conditions and climates, with a minimum impact on the environments she visits. Exuma has travelled extensively, from the South Pacific to St Petersburg, from Brazil to the Nordic fjords. She has passed Cape of Good Hope and has visited every continent since her launch.
The elegant exterior profile defines the traditional explorer aesthetic and captures the perfect balance between straight and curved lines. Built entirely from aluminium, she was the first of the Vitruvius line of motor yachts from Italian yard Perini Navi designed by Philippe Briand and delivered in 2010. The generation of Vitruvius®-series motor yachts was conceived with a focus on top efficiency for fully autonomous navigation. The aluminium hull is characterized by streamlined, slender traits and follows the principles of the BOS® Hull (Briand Optimized Stretched Hull), that allows to enjoy a gross tonnage of 497 tons, displacement of 400 tonnes, a reduced draught of 2.3 metres and a range of 5,500 miles at 12 knots.
The interior and exterior spaces are designed to increase privacy among shipboard guests and to enhance outdoor living. Internal furnishings are designed by Perini Navi with a focus on classic maritime style tradition, essentially using oak, teak and Italian marble.
Exuma has just completed her 10-year Class and is now listed as a yacht for sale.