Episode 2: "A personal Boat"
(continued from Superyacht Digest, Issue of January 2018)
[dropcap]F[/dropcap]rom the beginning of the year to date, I met the design team of De Voogt Naval Architects twice, at their offices in Haarlem in January and at the Dubai International Boat Show the following month. On both occasions, we focused on the development of the project in terms of space and size. Firstly, we decided how to divide all the areas, how much external space was necessary on all decks, how large the owner's cabins should be, where to accomodate all the guests…
At the beginning the first idea was to position the owner's cabin at stern, developing it on two decks. During the design session, we opted, instead, for a different solution, preferring to dedicate to the owner almost the entire upper deck, with a private terrace (aft) and an amazing access to the cabin opening directly from the lift. In the centre of the same deck we find the hammam and the spa, accessible also to the Vip guests on the same deck, who are accomodated in a huge luxurious cabin with two double beds… in case sometimes, you know, you have a couple of friends with children desiring to sleep with their parents or in case your grandparents simply prefer separate beds, or…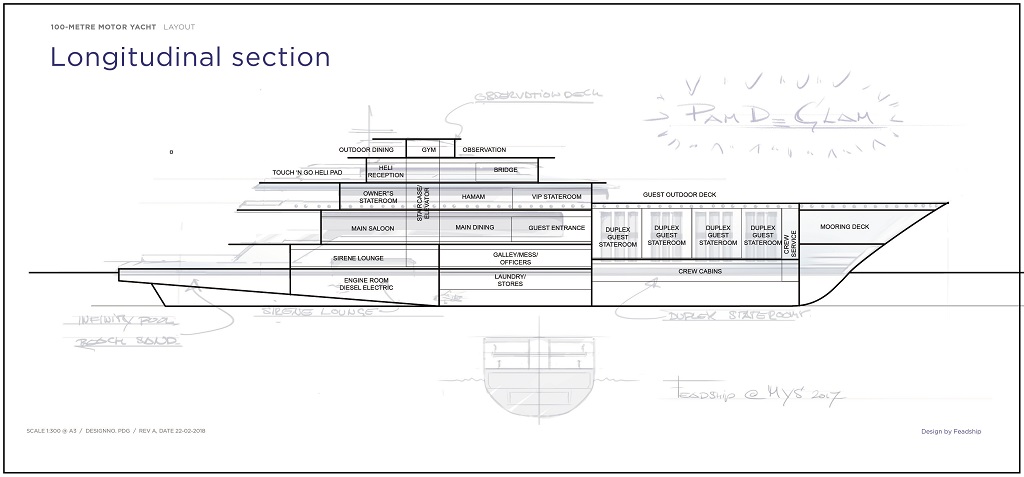 The guest area features however the most original design, which could make this project the perfect choice for an ultimate charter experience. The 8 guest cabins are located at stern (between the lower and the main deck), each developed on a double deck with entrance at Level 1. Each cabin is accessible from a central corridor, originating after the Guest Entrance, a dedicated social area equipped with two stairways (one up to the owner's deck, and one down to the Guest cabins) and furnished as a lounge with a game & card table for 6/8 people.
The idea was to allow all guests to benefit from the same cozy atmosphere you can find in a loft or in a chalet. Level 1 is designed as a lobby, with a comfortable sofa, wardrobe and bathroom, and level 2, reachable through an internal stairway, for the sleeping area. On both levels (1+2) the cabins enjoy an amazing view thanks to large floor-to-ceiling windows.

Devil is in the details
With a beam of 14 meters, the yacht opens with a superb beach area decorated with natural sand and equipped with a romantic fireplace in the middle. The beach area and the main deck are connected by the view of the 11m+ infinity pool and its emotional waterwall.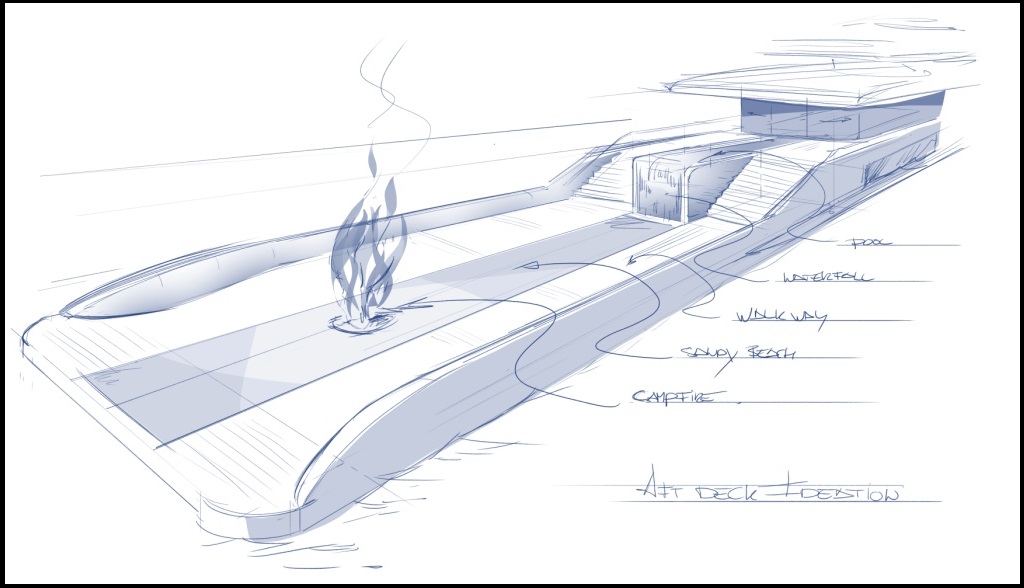 Fusion Design
Although the external design and outdoor areas look very modern, the style choice for the owner's cabin is designed combining a classical scheme with contemporary elements. The owner's cabin is accessible directly from the lift, with an imposing wood panel adorned with marble columns and Corinthian capitals, that separates the private foyer from the bedroom. The bed is positioned on an important platform with two/three steps; behind are the walk-in wardrobe and the bathroom with a spectacular view on the private terrace.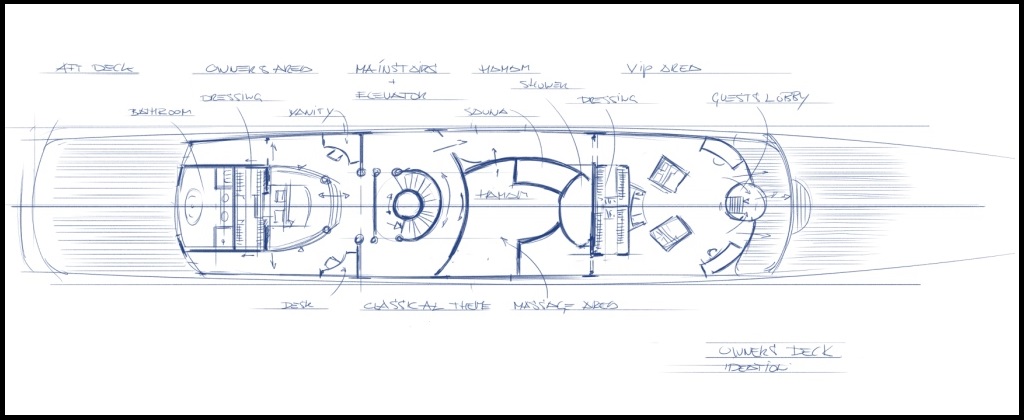 Article published in the April Issue 2018: