MARIO DICE
The new talent for a young luxury lifestyle on board! The collection seems to be almost dedicated to an elegant yachting lifestyle, on or off the boat, especially for those young women who love play with shapes and colours and live unconventionally.
Canvas lace, impalpable chiffon, cotton organdy, mingling opposites, lightness and hardness, for the romantic but always warrior Mario Dice woman.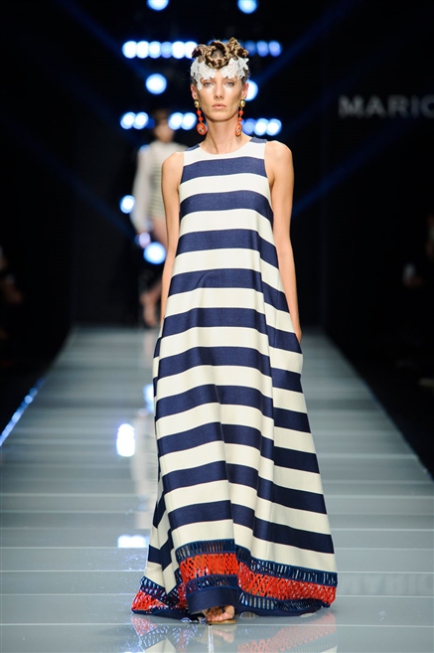 Founded in 2007 as a result of 20 years of experience in fashion of his creator Mario Dice, Maison Mario Dice has just unveiled its latest Spring/Summer Women's Collection 2016, ultimate example of perfect knowledge of structures and techniques; visionary in his shapes and colors, he offers his women collection iconic tailored garments, influenced by different art forms, with a classic/futurist taste in it.
Casual and sophisticated, simple and fun, elegant and dynamic, MARIO DICE's look is layered with different contemporary styles, unique and original, it's a new look between past and future.
The Spring / Summer Collection 2016.
A sophisticated femininity created out of volumes and shapes but also out of silhouettes along the body.
It looks like an opposites game but this fashion collection true mood really is the feminine universe and its thousands of faces. We go from the fashionable bohemian lady characters from Isabelle Allende The House of The Spirits style to the more modern and sexy ladies from Robert Altman pret a porter.
A woman who can change her skin, never repeating herself, who can be and has to be what she really wants to be. We have long and short lengths, like short to the knee dresses and sangallo lace skirts down to the ankle. Embroidered tops and soft chiffon shirts, at times without sleeves, and different lengths skirts complete the outfits. Printed chemise dresses, maxi tops embroidered on the back, but also short plissé dresses, they all make it the perfect cocktail dress. Canvas is legitimized and enhanced by sangallo inserts, in coats but also in tracksuits and trousers.
There are full colors as red and lime and electric blue but black and white are not missing. Prints particularly run through all garments from dresses to chemise dresses, now a distinctive mark of the Maison. Silhouettes are more waisted for the evening dresses: wonderful hand made embroideries on the long dresses and tattoo effects make it sexy without ever overdoing it.